Holiday Meet and Greet Social
and
US Marines Corps Toys for Tots Campaign
7:00 PM Tuesday, December 17, 2013
PRESIDENT ROMNEY ?

How significant was President Obama's "if you like it" bait and switch?
The latest WaPo/ABC News poll says that if the election were held today, Mitt Romney would beat Obama 49 percent to 45 percent.
That's an 8-point swing from the results of last year's election. And that's among registered voters, saying nothing of what voter intensity would do to those numbers given the growing opposition to the health law and the president's management.
The survey shows public opposition to ObamaCare at 57 percent, in the latest WaPo/ABC news poll. President Obama's approval is also suffering with 44 percent of adults now saying they "strongly disapprove" of the job he is doing.
By Jeff Longo
To Wall Street Journal 11.07.2013
In his column "Lessons for 2014 From a Virginia Defeat" Karl Rove offers a host of reasons why Ken Cuccinelli lost his bid to become the Governor of Virginia. Mr. Rove fails to mention what many conservatives feel was the biggest reason of all.
In Bob McDonnell's 2009 run for Governor of Virginia the Republican National Committee spent $9 million for a 17 point Republican victory. In 2013 the RNC spent under $3 million to lose by a couple of points. Was this just bad strategy or was it a message to Tea Party candidates?
Karl Rove is part of the Republican establishment who left Cuccinelli out to dry. Their goal is to diminish the conservative wing of the GOP and it is they who will hinder future success for the Republican Party.
By Steve Sweetnich
Published in Cleveland Plain Dealer 11.8.2013
"It should be obvious now to even the most casual observer that the President of the United State will do anything or say anything to push his agenda.
In the face of irrefutable evidence that many Americans will be harmed by the Affordable Care Act (Obamacare), President Obama and his acolytes continue to lie to the public about this ill conceived wealth distribution scheme.
Obamacare will cost much more than promised, diminish the overall quality of our health care, limit access, force people to leave their doctors and much more. Incredibly, in the wake of this disaster, the Congressional Budget Office says 30 million people will remain uninsured under a fully implemented Obamacare.
The President wants us to ignore what our eyes tell us they see and ignore what our ears tell us they hear, and instead accept his denial that he lied about his signature legislation. Our health care system needs improvements. Obamacare will make it worse.
The Obamacare rollout has been the calamity before the storm."
By Jeff Longo
Published In Crain's Cleveland Business
Brian Tucker's editorial "Life isn't a party in Washington right now" leads readers to believe he's on board with the current administration and why are conservative's trying to eliminate Washington's party time. Mr. Tucker further exposes himself as a big government Progressive when he refers to former Republican moderate Steve LaTourette as a successful Congressman. When LaTourette arrived in Washington our countries debt was about $5 trillion. When he left Washington it was about $17 trillion. What LaTourette and his moderate buddies allowed to happen was anything but successful. He fled Congress because he knew he was about to be thrown out.
Mr. Tucker devotes much of his editorial defending Obamacare as a law already passed by Congress. Surely he remembers the corrupt back room deals and lies that rammed this job killing legislation through Congress without a single Republican vote. Why, Mr. Tucker, does this law not apply to all American's equally? Why all the unconstitutional waivers and exemptions for the Presidents big business friends, union donors and the Congress of the United States? What about average middle class American's? Why are we unable to get the same considerations? The conservative wing of the Republican party was sent to Washington to kill Obamacare. We expect no less..
By Steve Sweetnich
Great

leaders are capable of seeing past partisan issues for the good of the people. Tuesday the citizens of America witnessed a remarkable and historically regrettable performance by the President as he engaged in deception, mis-direction, and juvenile character attacks while attempting to rationalize his decision to shut down the government.
By Jeff Longo
Our Republic is on the verge of a transformation it may never recover from. Freedom loving Americans are in the fight of their lives and if fully implemented Obamacare will control most aspects of those lives. Much of the freedom our brave patriots have fought and died for will be lost and the greatest healthcare system in the world will be destroyed.
With the exception of its conservative members Congress has become a body of political cowards unwilling to fight for our nations freedom. What's best for our country and its citizens has become secondary to the re-election of these overpaid and underperforming political hacks. We send these men and women to our nation's capital to serve their constituents, not to begin a comfortable life long career.
by Jeff Longo
President Obama's mishandling of Syrian President Bashar al Assad's use of chemical weapons mirrors his incoherent middle east policy over the last 5 years. How sad to see Russian President Vladimir Putin's world stature elevate as he outmaneuvers and stands up to our amateurish president. Mr. Obama's lack of leadership has allowed Putin to fill the middle east power vacuum left behind by our president.
Barack Obama's misguided actions appear to be the final nail in his political coffin. The Obama Doctrine has failed and can be pronounced dead. With three years left in his term will the same be said about America?
Former Secretary of State Hillary Clinton appears to be the front runner for the Democratic nomination to run for President in 2016, despite the fact that her actions surrounding the terror attack on the Benghazi Consulate prove she shouldn't be allowed to run a non-profit, much less a whole administration.
The entire Obama Administration has handled the attack poorly, but Hillary should shoulder most of the blame, due to her position and involvement.
The American people need only to look at her behavior before, during and after Benghazi to know how she would handle a similar crisis if she were to be elected President. If anything, we should be looking for ways to file criminal charges — not give her the most powerful political office on earth.
Read Entire Story Here
By Dom Sciria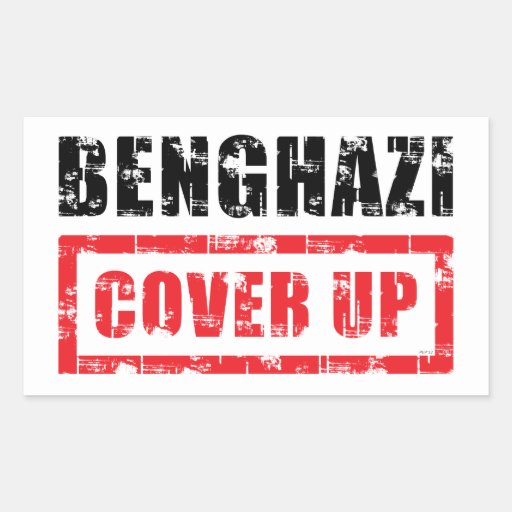 CNN did the American people a service this past week when it reported that CIA operatives are being coerced into supporting a government cover-up of key facts related to the September 11, 2012 terrorist attacks on the US consulate in Benghazi that resulted in the deaths of Ambassador Chris Stevens and three other Americans.
Now the cable news network and its fellow media outlets could do an even greater service by shining daylight on a more fundamental matter, that being Barack Obama's conduct as commander-in-chief during the attacks.
Largely ignored up to now, the President's own conduct in the midst of the crisis is as telling as the White Houses' reporting of events in the days that followed, and in the end even more relevant. What we've learned already from Congressional testimony and investigative reporting is cause enough for concern and reason to question nothing less than Barack Obama's fitness to command.